2019 Track & Field
Congratulations to the SFWS Track & Field team & Coach Cole on an outstanding season!
The boys track and field team competed at the New Mexico State Track & Field Championships last Friday and Saturday. Here is Coach Cole's review:
The boys 4 x 100 relay team, Koray Gates, Jackson Cole, Gabriel Boston-Freidman and Andres Gonzalez, ran in the preliminaries improving the time their with a 53.84.

Andres moved forward to the finals in the 300 hurdles finishing 8th overall with a time of 46.21, setting a new personal record. Andres also competed in javelin, throwing a 108'.

Leander Laga Abram set a new personal record in triple jump, jumping a 32' 1.25".
Words from Coach Cole: "I'm very proud of the team and I also deeply appreciate the support of the varsity girls track team who went to the meet and cheered on our athletes."
Varsity Track & Field State Championships are Friday & Saturday, May 10-11th, 2019. The team will travel down to the UNM Track and Field complex Friday morning, stay the night in a hotel, and come back Saturday after the qualifiers have competed in their events.
Here is Coach Cole's review of last week's district meet:
Shot put- Andres was 4th overall. Jackson Cole was 6th and Koray also competed with a good throw. Deedee set a new PR and Bri Yellowhorse also competed.
Javelin- Andres finished 1st overall in javelin setting a new PR with his throw. He will be competing at the State Championships in javelin . Koray also set a PR along with Jackson. From the girls Deedee was our Javelin thrower.

Discus- Deedee threw for a PR as did Bri who finished 5th overall for girls. Andres finished 3rd overall, Jackson finished 4th, Koray also competed in this event.

800m- Gabriel competed in his first 800, finishing 5th overall and Samantha also took on the 800 for the first time and ran an excellent race.

400m- Samantha set a new personal record and Jackson finished 5th overall, setting a new PR.

300 hurdles- Andres set a new personal record and finished first overall qualifying for State.

4x100 relay- Our boys 4X100m relay team finished second overall, qualifying for state. The team included Koray, Jackson, Gabriel, and Andres.

100m- Bri finished 6th overall. Deedee also competed, coming close to breaking her PR. Koray also ran, setting a new PR in the race
MS GIRLS PLACE 1ST, BOYS 3RD AT SFIS INVITE!
We are incredibly proud to announce that Middle School girls Track & Field team took 1st place overall in the SF Indian School Invite yesterday, beating 10 impressive teams including St. Michaels, Taos, Poajoaque and Pecos, among others. The boys team also rocked this meet and got 3rd place overall! WAY TO GO WOLVES!!
Special thanks to Koray Gates for the photos.
BOYS:
Jackson Blose - 5th place 200M
Jackson Cole - 1st place 400M

Nico Chastenet - 1st place 800M

Eno Little - 5th place 110M hurdles

Nico Chastenet - 2nd place high jump

Nico Chastenet - 3rd place triple jump

Gabriel Boston Friedman - 5th place triple jump

Jackson Cole - 2nd place discus

Jackson Cole - 1st place shot put

Relay Team - 3rd place 1600M
GIRLS:
Madeleine Mena - 2nd place 100M

Kristen Kyser (6th) - 5th place 100M

Madeleine Mena -1st place 200M

Aneena Clinger - 2nd place 200M

Kristen Kyser - 1st place triple jump

Daisy Russell - 5th place triple jump

Aneena Clinger - 2nd place 100M hurdles

Ria Baker - 3rd place 800M

Ria Baker - 3rd place high jump

Rowan Midgette - 4th place high jump

Aneena Clinger - 2nd place long jump

Madeleine - 5th place long jump

Relay Team:

3rd place 400M Relay

2nd place 800M Relay

4th place Medley Relay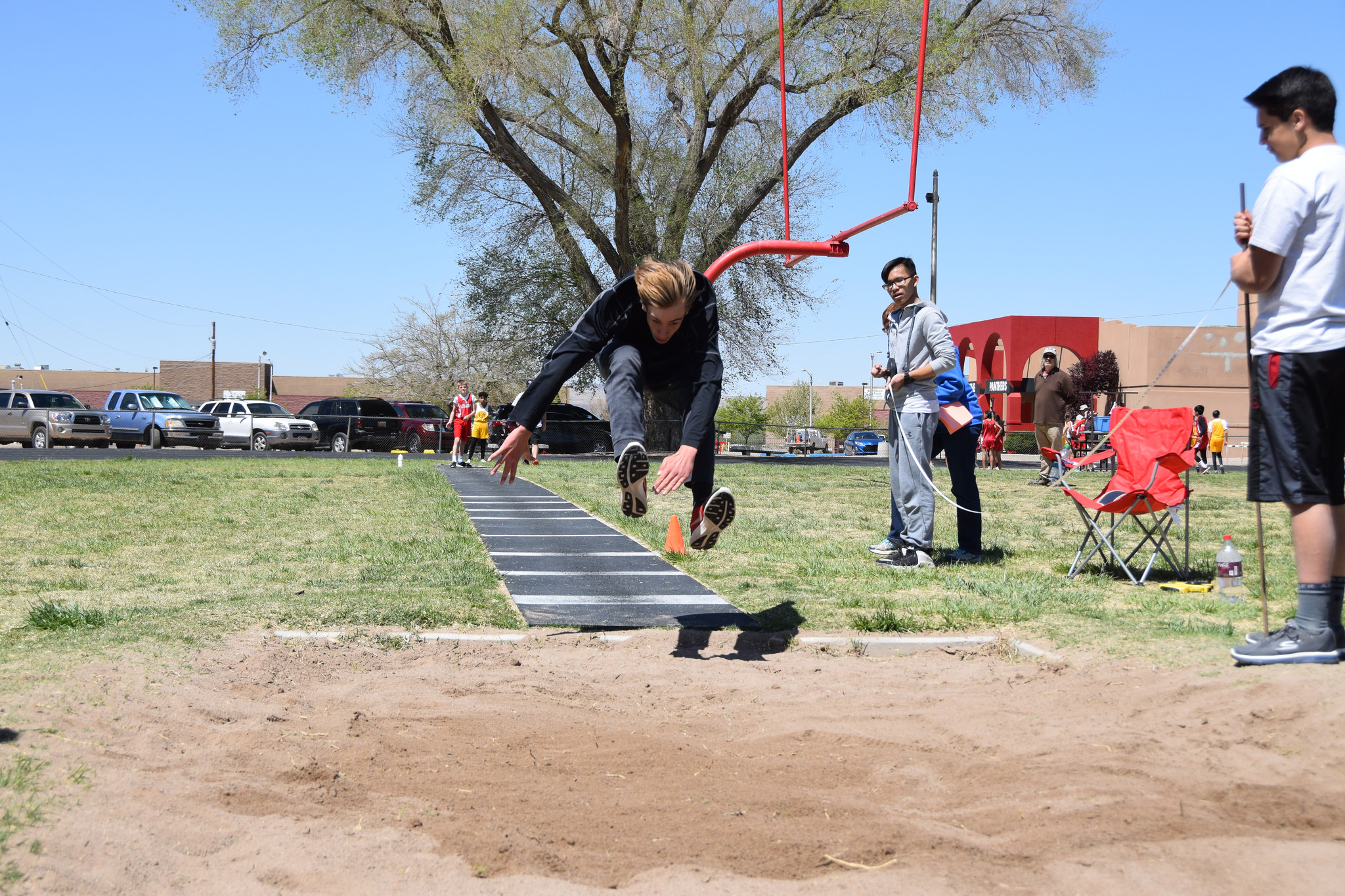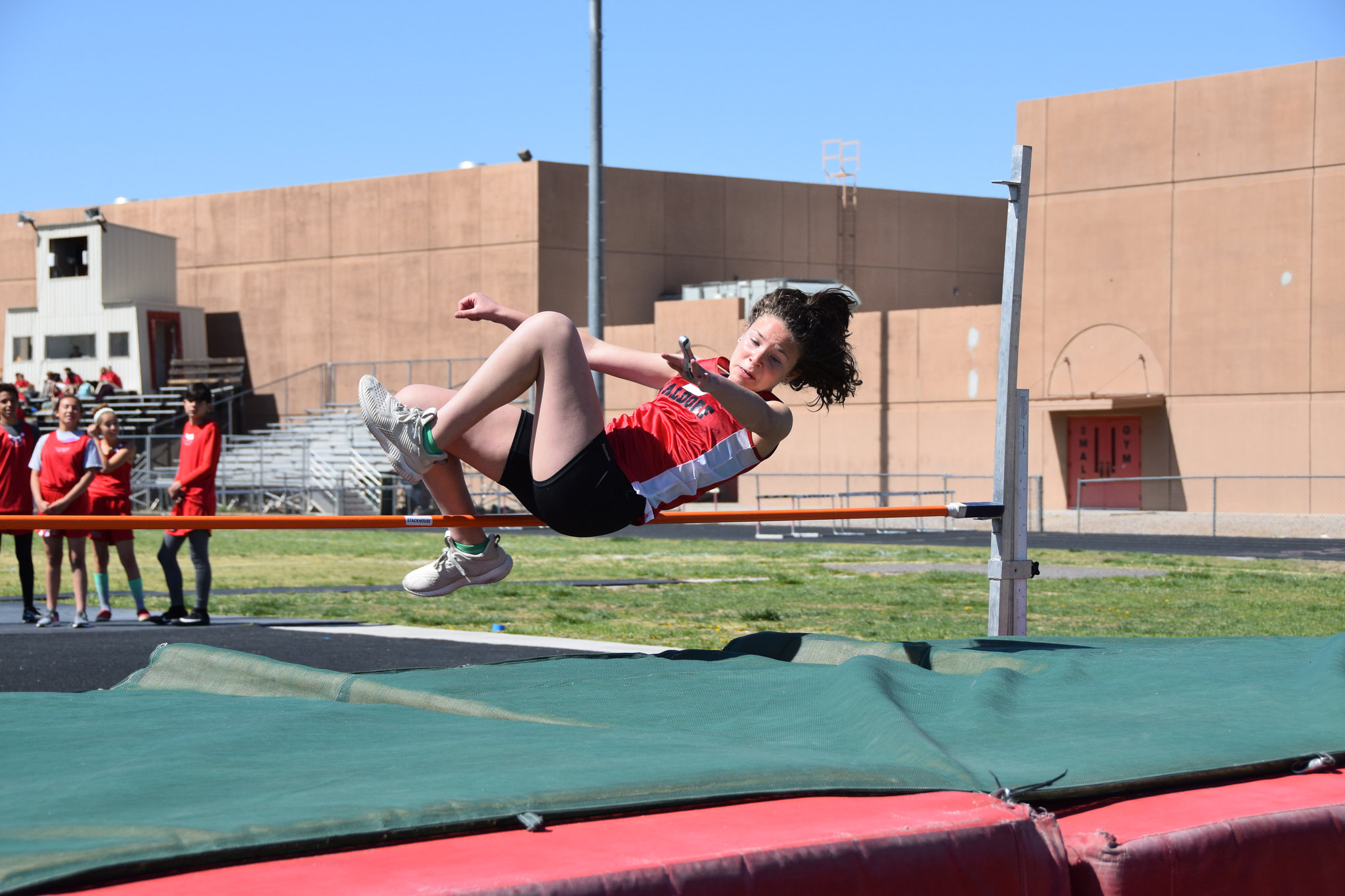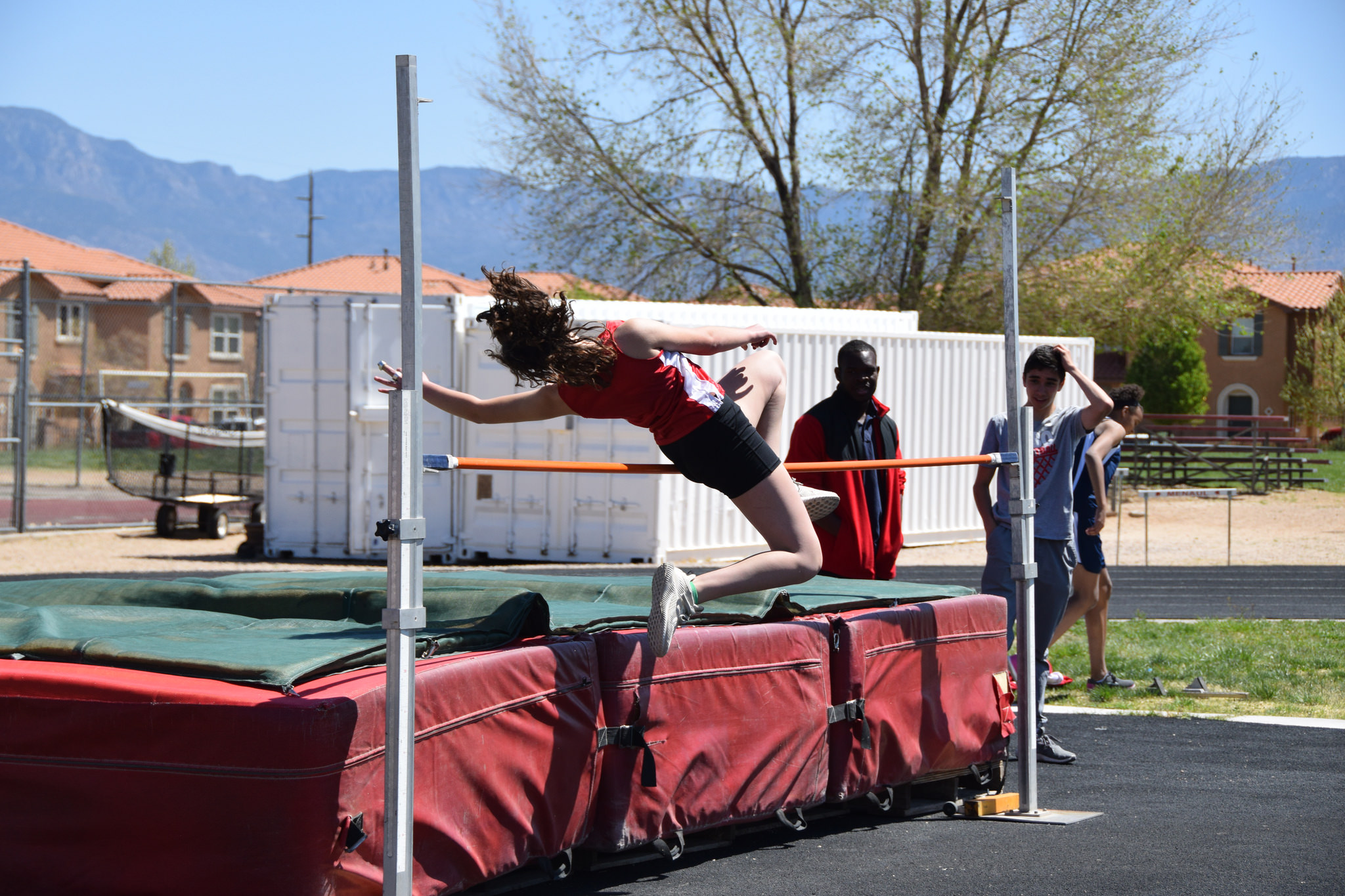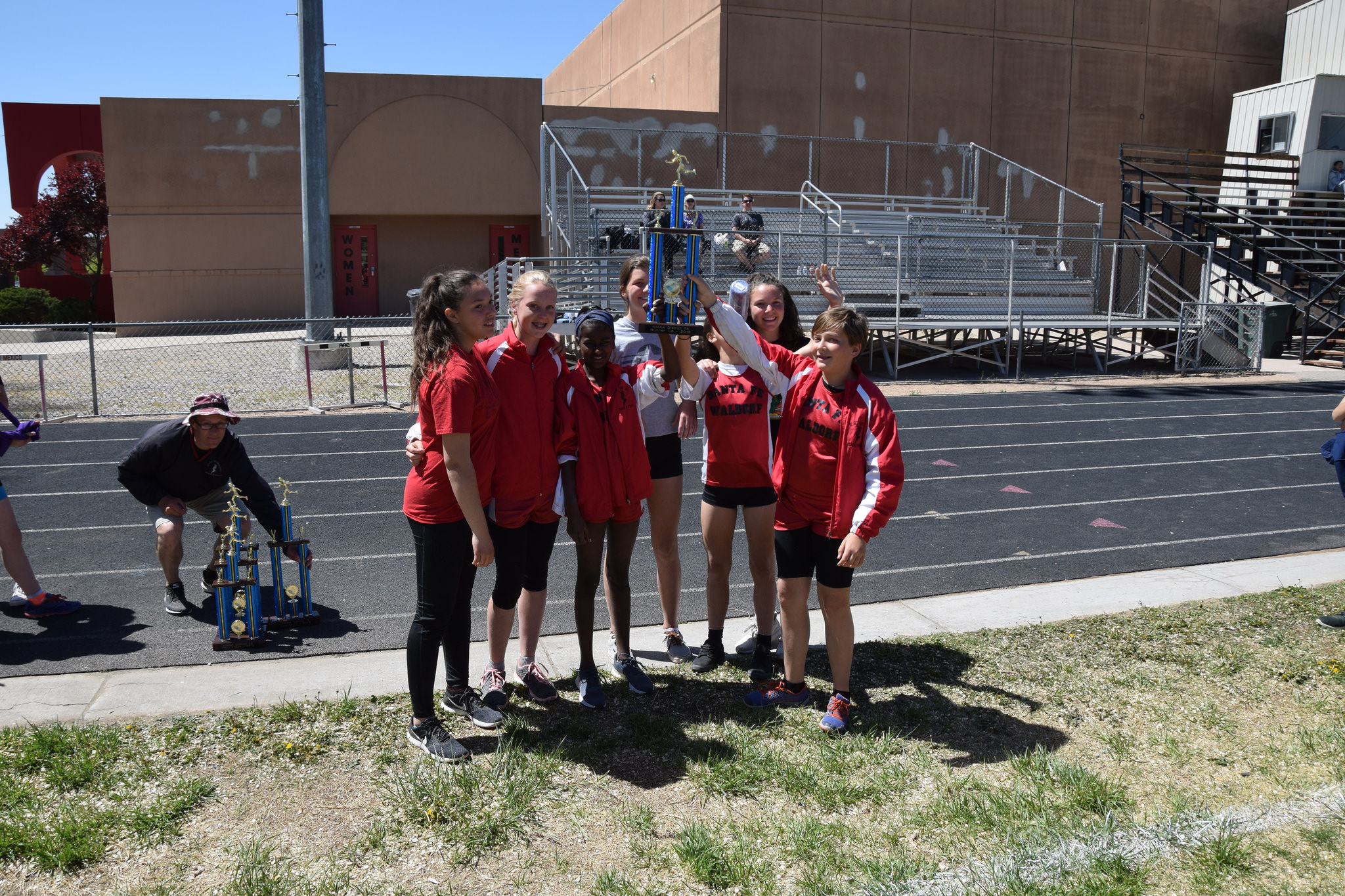 AN END OF SEASON NOTE FROM COACH COLE:
Thank you for an awesome season! We had a strong finish at the last two Middle School meets and the Varsity District 1A meet. The Middle School Boys got first in District and the Girls got Second over all. I am so proud of everyone.
Thank you to all the parents for your help driving and volunteering at the meets.
Kindly,
Coach Cole
MIDDLE SCHOOL TRACK & FIELD
TIME OF SEASON: Late February - Early May

LEVELS OF PLAY: Grades 6-8

AGE OF PROGRAM: 2005

PRACTICE INFORMATION: Regular season practice location is NMSD, on Mondays, Wednesdays, and Fridays, 3:30-5:00pm.

COACH CONTACT:
HEAD COACH - Coach Cole
VARSITY TRACK & FIELD
TIME OF SEASON: Late February - Early May

LEVELS OF PLAY: Grades 9-12

AGE OF PROGRAM: 2006

PRACTICE INFORMATION: Regular season practice location is NMSD, on Mondays, Wednesdays, Thursdays, and Fridays, 3:30-5:00pm.

COACH CONTACT:
HEAD TRACK COACH - Coach Cole